DTU Student Honored as a 2018 Nationally-Distinguished Female Science and Technology Student
Doan Thi Thu Ha, a DTU Electrical Engineering senior was one of 20 females nationwide honored as a 2018 Nationally-Distinguished Female Student in the field of Science and Technology. A ceremony was held in Ho Chi Minh City on December 28th by the Ministry of Science and Technology, in collaboration with the Ho Chi Minh city Central Communist Youth Union, to discover new talent and encourage more young people to study and research technology.
Doan Thi Thu Ha is now a highly-accomplished student of Electrical Engineering, although she initially enrolled in Business Administration. "My family was concerned when I moved to study Electrical and Telecommunications because it was far more popular with male students," she explained. "Previously, I had the ambition of becoming a servicewoman in the Viettel Military Telecommunications Group, while my Electrical Engineering knowledge was negligible. Then one day I read the 'Tony Buoi Sang' article, which says that an in-depth knowledge in any field, especially in medicine, electronics or agriculture provides the best foundation for future new business ventures at any age. However, expert knowledge is much more easily absorbed early in life."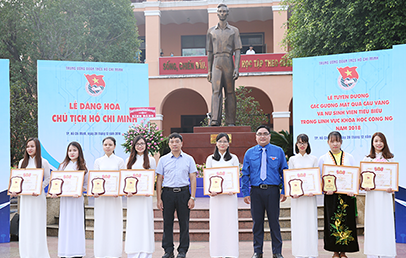 Doan Thi Thu Ha (first on the right) receives her award
Thu Ha has always participated enthusiastically in her lecturers' research projects and won previous awards and Certificates of Merit. During that time, she developed several really practical products, and the following are her favorites:
- "A Free Condom Dispenser". This innovative product won third prize in the National Student Scientific Research Awards competition. It was developed by Thu Ha when she was in her first year at DTU, together with several senior students. The dispensers have been installed in the Hai Chau district and the Hoa Khanh Industrial Zone.
- Thu Ha won first prize in the 2016 Social Venture Plan competition and a second in the 2018 Business Startup competition.
- "A Braking System to Convert Friction into Electrical Energy". Thu Ha's and Nguyen Thi Thanh's product was recognized for its practicality and safety and won the 2018 national "Go Green in The City" competition, sponsored by Schneider Electric Vietnam. They then progressed to the Asian finals in August and came in second. At the finals in November, in Atlanta, they won a special prize for an all-female team. "The Women in Business" award recognizes talented and innovative DTU female students in international competitions.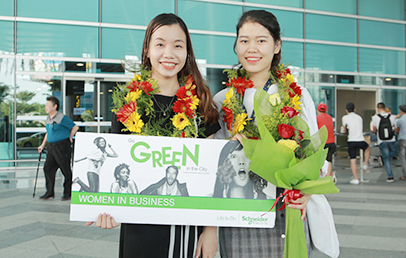 Doan Thi Thu Ha (left) and Nguyen Thi Thanh receive "Women in Business Awards" in Atlanta
"We were ably supported by our Electrical Engineering lecturers. In addition, the DTU Board of Provosts always encourage us to conduct scientific research and finance us to develop high-quality, practical products. I would like to express my sincere gratitude to Dr Ha Dac Binh, Dean of DTU Faculty of Electrical Engineering, for providing us the very consultancy so that the team were able to perfect our project on schedule." Thu Ha said.
Thu Ha believes that the quality of a product can only be assessed by the quantity actually sold in the marketplace. To effectively learn how to run a business in the future, Thu Ha has participated in further educational and startup activities, including the 2018 Business Startup Bootcamp Kick-off and the 2017 Danang TechStars Startup Weekend.
Thu Ha said: "I know that applying technology to agriculture increases the yield, purity and healthiness of crops, so my ambition is to continue my studies in a well-developed agriculture, like Israel, and return to Vietnam to improve our food production, increase exports and offer our farmers a higher standard of living."
Thu Ha also proactively volunteers in several other activities, such as the "2017 Green River Day", the "Picture with Many Hopes" project and charitable trips to help children and impoverished people in the mountains. She always remembers the saying: "If we give much, we will feel much affection in return."
For further information about Electrical Engineering, Electrical Automation and Embedded Systems at DTU, visit: The DTU Faculty of Electrical Engineering and The Faculty of Environmental & Chemical Technology
(Media Center)
Other News
- An Agreement with SEIREI on Nursing Education (1/21/2019 9:33:05 AM)
- The Vietnam-Japan Institute of Engineering and Technology Founded at DTU (1/4/2019 8:58:28 AM)
- An Agreement with CO-WELL Asia (1/4/2019 8:37:31 AM)
- Applicant Scoring 27/30 Will Study Business Administration at DTU (8/31/2018 3:31:18 PM)
- DTU Lecturer Voted Asian CDIO Council Member (8/31/2018 3:07:26 PM)
Many guests, colleagues, friends, local press and media attended the Twentieth Anniversary of Duy Tan University at the Trung Vuong Theatre on November 11th. For the past twenty

DTU was honored to be one of only two private universities nationwide to receive an Emulation Banner from MOET this year. This is a highly-deserved award in view of DTU's twenty

On October 29th, DTU signed an agreement to share technology with the Dr. Nano Company, including: - A low cost, do-it-yourself water filtering system, which won first-place in a