"Korea Week 2019" at DTU: Promotion of Mutual Understanding and Cultural Exchange
"Korea Week 2019", a Traditional South Korean Cultural, Educational, Cuisine and Dress Fair, was held from January 6 to 12 at Duy Tan University (DTU) in Danang. Students were able to immerse themselves in the two different cultures, their people, languages, customs and cuisine, and especially traditional Korean events and festivals in the Land of the Gimchi. The DTU students talked about the beauty and characteristics of Vietnam, about its history and traditions, and about the city of Danang.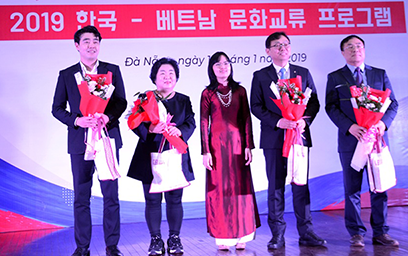 DTU Vice-Provost Le Nguyen Tue Hang (center) gives gifts to Professor Seok Hyang Kim, (second from left) (Photo: T.Ngoc)
"Tourism in Danang is developing rapidly, attracting great numbers of foreign tourists, especially South Koreans," said Ms. Le Nguyen Tue Hang, DTU Vice-Provost. "In 2018, 1.8 million Koreans visited Danang. DTU has been working continually on several ways to improve the education of a highly-qualified hospitality workforce in Danang, which is the hub of Central Vietnam's tourist business. International partnerships and exchanges are the key to our success to meet the special interest and demands of South Korean and other tourists. In this way, we will increase business volumes and foster better mutual understanding and awareness internationally. DTU has established cooperative relationships with seven universities in South Korea so far, namely: Sejong University, EWHA Womans University, Chungbuk National University, Dongduk Women's University, Namseoul University, Dong-A University, and Youngsan University."
DTU has already sent forty students to South Korea, for periods ranging from six months to one year and, at the same time, welcomed fifty South Korean students to study and intern at five-star hotels and resorts around Danang. This has improved the Korean language ability of the DTU students, which is still seriously lacking in Vietnam. In this way, students from both countries can broaden their knowledge and experience in preparation for their future careers.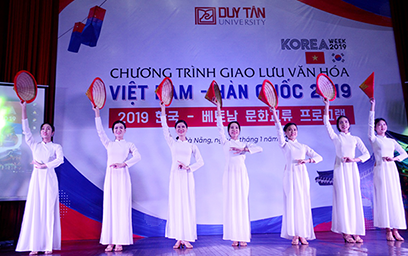 Greetings from Danang, Vietnam (Photo: T.Ngoc)
"Korea Week 2019" Attracted Wide Interest
The deepest impression left by the exchange program with EWHA Womans University was from the close-up impression of the South Korean culture, traditional cuisine and attire. Booths were set up where attendees could sample typical Korean street food on the spot. Make-up artists from the Kwangwoon University Department of Cosmetics also demonstrated "K-Beauty" techniques.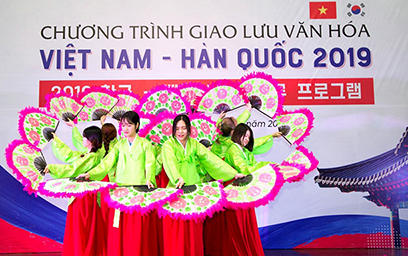 Impressions of South Korean culture (Photo: Thanh Hoa)
"This event provided for a friendly and relaxing cultural exchange and forged new friendships between the students from our two countries," said the organizers.
At the close of Korea Week 2019, DTU's staged sparkling performances by the twelve best Danang teams competing in the finals of the 2019 KPOP New Year Dance Cover "Be Ur Star" dance contest.
"I personally did not participate in cooking traditional South Korean food or the folk-dancing," joked Professor Seok Hyang Kim, Director of the Institute for Unification Studies at EWHA Womans University, and leader of the Korean exchange delegation. "But seeing the smiling and cheerful faces of all the students of our two nations made me very happy. I hope that the frequency of our exchanges with DTU and other Vietnamese universities will increase and enter a new phase in our collective relationships."
(Media Center)
Other News
- DTU Student Honored as a 2018 Nationally-Distinguished Female Science and Technology Student (1/21/2019 9:43:37 AM)
- An Agreement with SEIREI on Nursing Education (1/21/2019 9:33:05 AM)
- The Vietnam-Japan Institute of Engineering and Technology Founded at DTU (1/4/2019 8:58:28 AM)
- An Agreement with CO-WELL Asia (1/4/2019 8:37:31 AM)
- Applicant Scoring 27/30 Will Study Business Administration at DTU (8/31/2018 3:31:18 PM)
Many guests, colleagues, friends, local press and media attended the Twentieth Anniversary of Duy Tan University at the Trung Vuong Theatre on November 11th. For the past twenty

DTU was honored to be one of only two private universities nationwide to receive an Emulation Banner from MOET this year. This is a highly-deserved award in view of DTU's twenty

On October 29th, DTU signed an agreement to share technology with the Dr. Nano Company, including: - A low cost, do-it-yourself water filtering system, which won first-place in a