DTU Donates Electric Wheelchairs to the Disabled in Danang
For several disabled people, the warmth of Spring and Lunar New Year comes early, as Duy Tan University brought them some joy with valuable electric wheelchairs. The ten first electric wheelchairs researched, designed, and manufactured by DTU were given to disabled in Danang with particularly difficult circumstances in the morning of January 26, and provided the recipients with boundless happiness for the coming Lunar New Year.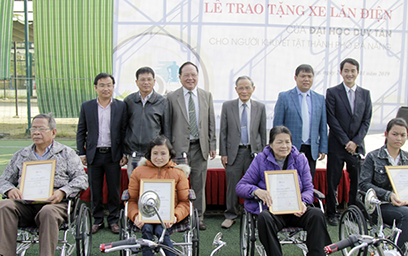 DTU leaders awarding electric wheelchair certificates to the disabled
The electric wheelchair: An extra pair of legs
Among recipients, some had never set hands on a wheelchair before, as was the case of Mr Huynh Van Thanh (Phuoc My ward), a war invalid, who uses a leg prosthesis and walks with crutches. Some depend entirely on the help of their relatives and have to be carried everywhere they go, such as Ms Dang Thi Hong Anh (Hoa Minh ward), a victim of agent orange with a shrunken body and immobile legs. Mr Bui Them (Hoa Khanh Bac ward) has been paralyzed for forty years, lives alone, and uses an ancient wheelchair to move around. Ms Dang Thi Be (An Hai Bac ward) is paralyzed in both legs, orphan, and lives with her brother. Mr Tran Minh Hoang (Phuong Hung hamlet) had his spinal cord hit in a labor accident, breaking his neck vertebra and leaving him paralyzed in all four limbs. And finally, Ms Dang Thi Thanh Mai (An Trach hamlet) is of a poor family and is paralyzed in both legs and her left arm.
Mr Bui Them explained: "Before, I always needed someone to push me whenever I wanted to go somewhere, or I'd have to arduously push myself by hand. Often I'd want to go to the market to buy groceries, but I couldn't, so I had to ask the neighbors. Now that I have this electric wheelchair, which is like an extra pair of legs, I can easily go wherever I want to, and I can go around selling lottery tickets to make a living."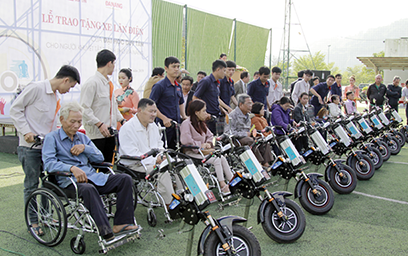 Engineers of the DTU CEE instructing the disabled on the use of the electric wheelchair
"I thank DTU for their compassion and for their understanding of the aspirations of people with disabilities," Ms Dang Thi Be said happily when receiving her wheelchair. "At home, I only have an old and rickety three-wheeler to move around, which needs costly repairs all the time and is somewhat inconvenient in that it cannot go backward. With this electric wheelchair, I can easily go forward, back, and turn left or right."
Humanitarian product
The idea to design an electric wheelchair was part of the scientific research project proposed by MSc Dang Ngoc Trung, Director of the DTU Enrollment Center. The DTU leadership realized the humanitarian value of the proposal, and they created the most optimal conditions for MSc Dang Ngoc Trung to join hands with the Center of Electrical Engineering to research and create a complete product.
"In other countries, society cares a lot about the disabled," DTU Provost Dr Le Nguyen Bao explains. "Public transport like trams and roads are all designed with disabled people in mind, such that they can easily move around even using primitive wheelchairs, without having to rely as much on the help of their relatives. In Vietnam, however, society only cares so much for people with disabilities, making it very difficult for them to move around. Because of this, we thought of designing and manufacturing wheelchairs with electric motors to ease their mobility. This design has two parts: the head with the motor can be fitted when going outside and removed to more easily move around inside. We hope this is a meaningful present from our university to the disabled, and we wish society to grow ever more developed and educated, such that people will care more for the disabled and reduce the hardship in their lives."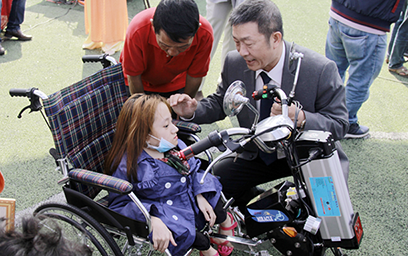 Dr Vu Duong instructing Ms Dang Thi Hong Anh in how to use the electric wheelchair
The electric wheelchairs designed by DTU show many differences with wheelchairs currently available on the market. According to Director of the CEE Dr Vu Duong, their electric wheelchairs were designed to be easily assembled and have compact structure while guaranteeing stability and safety, to be compatible with the health of the disabled. Users can rapidly take the wheelchair apart and reassemble it, to make it either battery-driven or hand-driven at any time or situation they so desire. To allow for this transformation, the components of the tractor were created using modern high-precision machines, such as CNC mills, CNC lathes, and CNC laser cutters. Before being put to use, the CEE tested the electric wheelchairs on a tachometer and measured its vibrations. The chairs use lithium batteries allowing from 35 km to 40 km after each recharge. The top speed is 45 km/h and maximal load is 120 kg. The wheelchairs can climb up slopes of up to 30° without sacrificing smoothness. They are equipped with lights to drive at night, turn signals, and a rearview mirror. Furthermore, the steering wheel integrates many control systems that can be useful for the user: start switch, throttle to control speed, reverse gear, light switch, turn signal switch, and car horn. DTU has applied to register a useful solution at the National Office of Intellectual Property to protect their idea.
"I am very happy to have been able to make a small contribution to the creation of this practically meaningful product helping the disabled," says Nguyen Khac Minh Duc, a Mechatronics student at DTU who took part in the research and manufacture of the electric wheelchairs. "My participation has provided me with a lot of useful knowledge and experience on manufacturing and assembly. I hope we can continue to create many more useful products under the guidance of our lecturers."
Many other products have been put to good use
The DTU CEE has produced many other products that were put to good use. Most recently, they successfully researched and manufactured robot arms, which were given to two primary school children, Phan Trong Hieu and Tran Dang Khoa, from Quang Nam province. All the components - fingers, hands, wrists, joints, tendons - were designed to fit the parts the children still had left, such that the robot arms would allow them to firmly grab objects of a variety of sizes and weights and easily conduct everyday activities like eating, drinking, and riding a bicycle.
A great many other products created by DTU engineers and even students have been put to practical use and enjoy very positive feedback. A weld-checking robot has been put to experimental use at the Song Thu shipyard, drink machines have been installed at all DTU campuses for use by lecturers and students, a handheld parking ticket dispenser using RFID technology received a consolation prize at the 13th Vietnam Science and Technology Innovation Prize, there is a robot guiding people across the street, and an automatic condom dispensers have been installed at several wards and medical facilities around Danang.
The CEE is currently researching the production of leg prostheses for the disabled. The Center hopes to provide people disabled in the legs with normal legs allowing them to lead normal lives. In the rather spacious electric engineering laboratories with modern equipment, located at Hoa Khanh Nam, Lien Chieu district, DTU lecturers and students can freely research, design, and create. Each product that is put to use stems from a passionate hope to overcome the difficulties of life and to provide everyone with a love for life.
For further information, please visit: DTU Faculty of Electrical Engineering and DTU Center of Electrical Engineering
(Media Center)
Other News
- DTU Overseas Study Opportunities in South Korea, Taipei and Thailand (2/19/2019 3:50:55 PM)
- "Korea Week 2019" at DTU: Promotion of Mutual Understanding and Cultural Exchange (1/21/2019 9:57:08 AM)
- DTU Student Honored as a 2018 Nationally-Distinguished Female Science and Technology Student (1/21/2019 9:43:37 AM)
- An Agreement with SEIREI on Nursing Education (1/21/2019 9:33:05 AM)
- The Vietnam-Japan Institute of Engineering and Technology Founded at DTU (1/4/2019 8:58:28 AM)
Many guests, colleagues, friends, local press and media attended the Twentieth Anniversary of Duy Tan University at the Trung Vuong Theatre on November 11th. For the past twenty

DTU was honored to be one of only two private universities nationwide to receive an Emulation Banner from MOET this year. This is a highly-deserved award in view of DTU's twenty

On October 29th, DTU signed an agreement to share technology with the Dr. Nano Company, including: - A low cost, do-it-yourself water filtering system, which won first-place in a