An Exchange with Temasek Polytechnic
On January 22, DTU held a cultural exchange event with students from Temasek Polytechnic from Singapore. This gave the DTU students a chance to learn more about the Singaporean culture and people and expand their ties with another ASEAN country.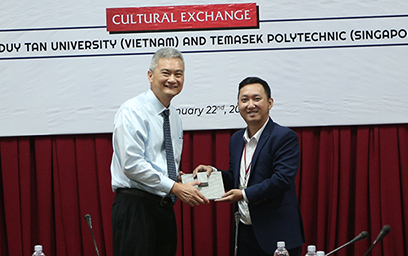 The Temasek Polytechnic delegate receives a gift from DTU
Lecturers and students got to know each other during musical performances and games, presented interesting information in fluent English on their native languages, traditional costume, tourist attractions, food and lifestyles. Temasek Polytechnic students gave their DTU peers national Singaporean cakes.
Mr. Nguyen Huy Phuoc, Director of the DTU Global Exchange Office, said: "This is the second cultural exchange between DTU and Temasek Polytechnic. The event broadens the partnership between our two universities. We hope that we will be able to partner to broaden ASEAN academic ties and exchange opportunities for our lecturers and students."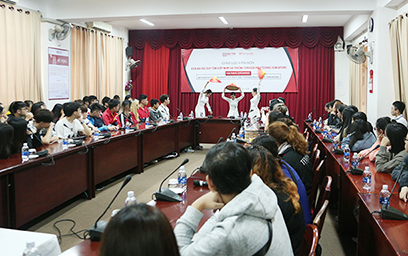 DTU and Temasek Polytechnic lecturers and students
The exchange allowed DTU students to make new foreign friends and helped them perfect their English. They accompanied Temasek Polytechnic to several local tourist attractions, including Ngu Hanh Son mountain, the Con market and the Cham Museum.
(Media Center)
Other News
- DTU Donates Electric Wheelchairs to the Disabled in Danang (2/19/2019 4:04:26 PM)
- DTU Overseas Study Opportunities in South Korea, Taipei and Thailand (2/19/2019 3:50:55 PM)
- "Korea Week 2019" at DTU: Promotion of Mutual Understanding and Cultural Exchange (1/21/2019 9:57:08 AM)
- DTU Student Honored as a 2018 Nationally-Distinguished Female Science and Technology Student (1/21/2019 9:43:37 AM)
- An Agreement with SEIREI on Nursing Education (1/21/2019 9:33:05 AM)
Many guests, colleagues, friends, local press and media attended the Twentieth Anniversary of Duy Tan University at the Trung Vuong Theatre on November 11th. For the past twenty

DTU was honored to be one of only two private universities nationwide to receive an Emulation Banner from MOET this year. This is a highly-deserved award in view of DTU's twenty

On October 29th, DTU signed an agreement to share technology with the Dr. Nano Company, including: - A low cost, do-it-yourself water filtering system, which won first-place in a