DTU Collaborates with Dong-A University in Korea for Hospitality Master's Degree
On November 9, in Danang, DTU and Dong-A University signed an agreement to offer a joint Master's degree program in Hospitality.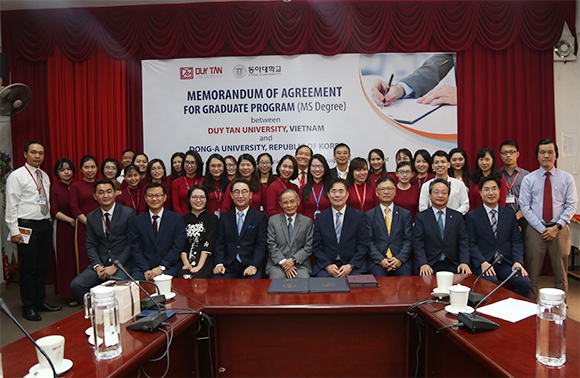 Representatives of DTU and Dong-A University at the signing ceremony
The program will be taught at DTU entirely in English, for four semesters, with 26 credits. Lecturers from both universities will teach, and supervise the graduation theses to prepare highly-qualified professionals for local Hospitality businesses or as new university lecturers in Central Vietnam, to lead in the development of advanced Hospitality education programs to meet the ever-increasing demand for workers, nationwide and internationally.
(Media Center)
Other News
- DTU Is the Second University in Vietnam to Be ABET accredited (9/26/2019 9:35:53 AM)
- 2019 APTA Conference (9/26/2019 9:30:08 AM)
- DTU Releases the First Swallows Documentary (9/26/2019 9:21:53 AM)
- The 2019 DTU Jobs Fair, with 5,400 opportunities for local students (9/26/2019 9:14:21 AM)
- DTU Students Win Big Prizes at the 2019 National Student Olympiad (5/15/2019 9:30:44 AM)
Many guests, colleagues, friends, local press and media attended the Twentieth Anniversary of Duy Tan University at the Trung Vuong Theatre on November 11th. For the past twenty

DTU was honored to be one of only two private universities nationwide to receive an Emulation Banner from MOET this year. This is a highly-deserved award in view of DTU's twenty

On October 29th, DTU signed an agreement to share technology with the Dr. Nano Company, including: - A low cost, do-it-yourself water filtering system, which won first-place in a