DTU Participates in Vietnam-Myanmar Education Cooperation Forum
On December 2nd, the Vietnam Embassy in Yangon, Myanmar and the Ministries of Education and Training in Vietnam and Myanmar held a Vietnam-Myanmar education cooperation forum in Yangon, Myanmar, to promote partnerships among educational institutions of the two countries.
The Vietnam Ambassador to Myanmar, Dr. Luan Thuy Duong; Mrs. Nguyen Thi Thanh Minh, Vice-Director of the International Cooperation Department of MoET; Provosts & Vice-Provosts and lecturers from the Hanoi University of Science & Technology, the HCMC University of Science & Technology, the Hong Bang International University, Duy Tan University; Mr. Myint Thein from the Ministry of Education of Myanmar, the Provost of Yangon Technological University and representatives from 30 universities, colleges and high schools in Myanmar attended.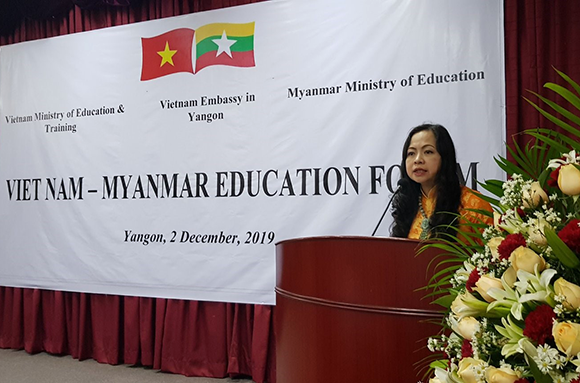 Addressing the event, Vietnamese Ambassador to Myanmar, Dr. Luan Thuy Duong, said: "The forum was an opportunity for Vietnamese universities to get to know universities and high schools in Myanmar. It was part of an effort to realize a Memorandum of Understanding between the two ministries, contributing to further strengthening of the comprehensive cooperation partnership between Vietnam and Myanmar even further. In addition to scholarship programs involving the Vietnamese government, ministries, agencies, universities and the Vietnamese business community in Myanmar, we are willing to support Myanmar in education development. The collaboration and exchange between schools, institutions and students will help reinforce our bilateral relations."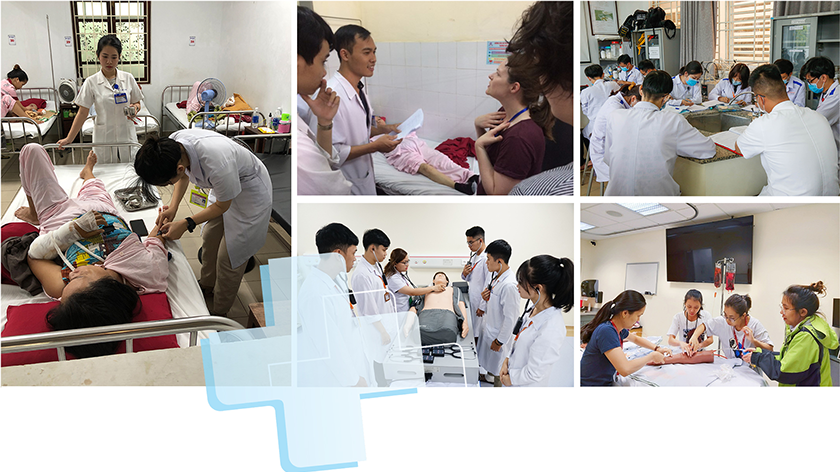 Mr. Le Tuan, Director of the American Degree Program (ADP) at Duy Tan University overviewed DTU scholarship programs for foreign students, especially from Myanmar. With Troy University and Keuka College, DTU has developed the American Degree Program (ADP) and the On-Site Study-Abroad programs, which offer students nationwide the opportunity to obtain a high-quality college education and an American degree, without leaving Vietnam. ADP has already awarded full scholarships to several international students, including four from Myanmar, who all enrolled in Hospitality Management.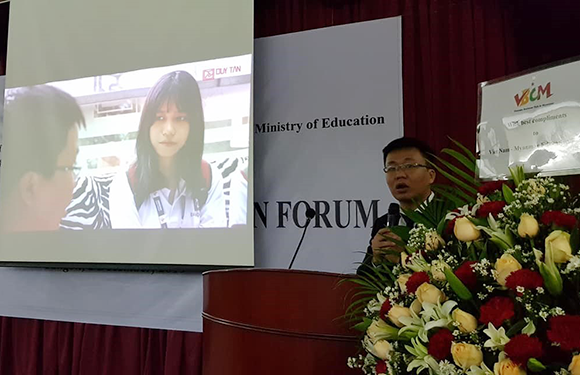 The representatives at the forum acquired a better understanding of the 25-year history of DTU by reading the Duy Tan Experience booklet and the Impressions of Time & Aspirations document.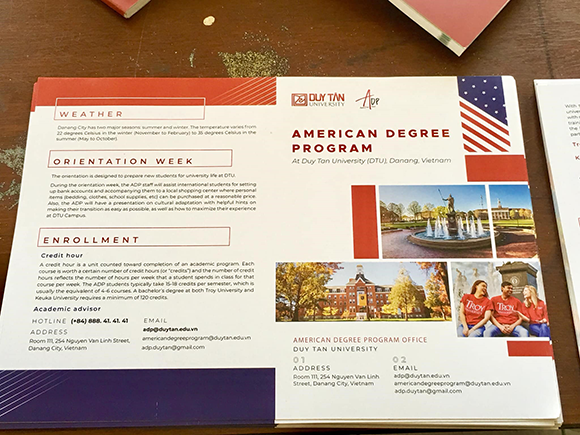 Representatives from Vietnamese universities introduced training and scholarship programmes for foreign students in general and those from Myanmar in particular.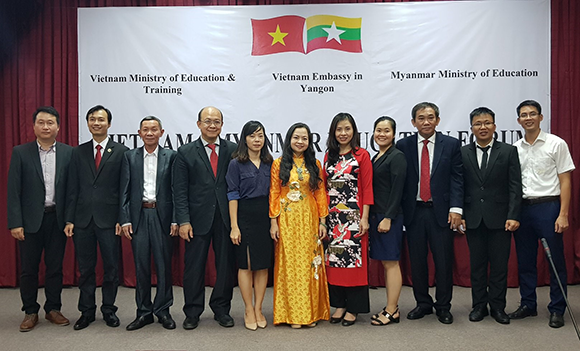 The Myanmar delegation offered their sincere thanks to the Vietnamese government for providing Myanmar students with such valuable scholarships and called upon Vietnamese investors to increase their support for educational development in Myanmar.
(Media Center)
Other News
- Southeast Asian Ministers of Education Organization (SEAMEO) Polytechnic Network: Big Opportunity for DTU Students (11/20/2019 10:26:27 AM)
- DTU Advances to Finals of 2019 ASEAN Information Security Contest (11/20/2019 10:22:15 AM)
- DTU Meets with the Vietnamese N&V Bridge and Japanese Chime Companies (11/20/2019 10:19:01 AM)
- DTU Collaborates with Dong-A University in Korea for Hospitality Master's Degree (11/20/2019 10:15:19 AM)
- DTU Is the Second University in Vietnam to Be ABET accredited (9/26/2019 9:35:53 AM)
Many guests, colleagues, friends, local press and media attended the Twentieth Anniversary of Duy Tan University at the Trung Vuong Theatre on November 11th. For the past twenty

DTU was honored to be one of only two private universities nationwide to receive an Emulation Banner from MOET this year. This is a highly-deserved award in view of DTU's twenty

On October 29th, DTU signed an agreement to share technology with the Dr. Nano Company, including: - A low cost, do-it-yourself water filtering system, which won first-place in a