A PhD with strong feelings about rural water treatment
Dr. Tran Nguyen Hai, from the DTU Institute for Basic and Applied Research in Ho Chi Minh city, works on the editorial boards of twelve internationally recognized scientific journals. His research papers in those same publications won him a place as one of the top ten young Vietnamese academics in Science and Technology in the 2019 Golden Globe Awards.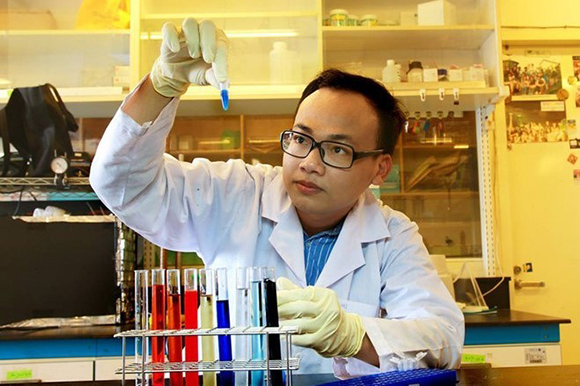 Dr. Tran Nguyen Hai
Dr. Tran Nguyen Hai graduated in Land Management from Can Tho University in 2003 and followed up with a Master's degree in Soil Sciences. In 2017, he graduated with a PhD in Environmental Engineering from Chung Yuan Christian University in Taiwan, after winning a full scholarship for outstanding international students. Since 2015, he has published 50 papers in international journals indexed by the Web of Science, with 29 in the first quartile, 9 in the second, 10 in the third quartile and 2 in ESCI journals. He was the main author of a report that won an outstanding award at the age of 35.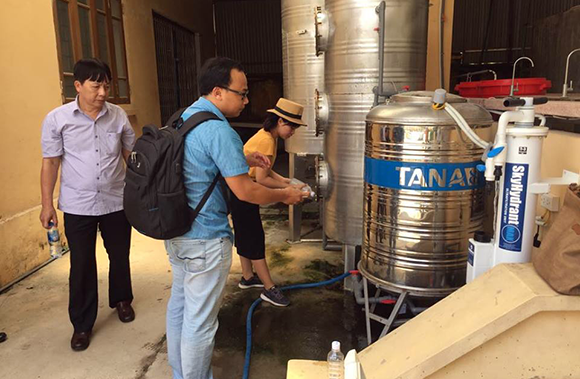 Dr. Tran Nguyen Hai checking an arsenic filter at the Hoang Tay kindergarten in Kim Bang, Ha Nam
Dr. Hai's research has been practically applied in the treatment of polluted water
Dr. Tran Nguyen Hai was a key team member on the project entitled "Researching and applying a new decentralized arsenic treatment system for drinking water in rural Vietnam", funded by the Australian Department of Foreign Affairs and Trade. Their report was published in the ISI-indexed journal of Environmental Science, "Science of the Total Environment."
Dr. Tran Nguyen Hai stated that 17 million consumers drink water from the ground contaminated with arsenic, leading to many potential health hazards, especially cancer. The main objective of the project was to develop technology to deal with arsenic in ground water in households and local institutions, such as schools and clinics.
The research group developed a new filter mechanism based on thirty local filter materials experimentally selected in the lab. Water quality measurements after filtering met accepted standards. He also led a NAFOSTED-funded project "General research into advanced composite materials, spherical carbon and layered double hydroxides, for the treatment of polluted water."
An editorial board member of twelve international scientific journals
In addition, Dr. Tran Nguyen Hai is a member of the editorial boards of twelve indexed ISI and Scopus international journals, such as of Science of the Total Environment; Current Pollution Reports; Environment, Development and Sustainability; The Bulletin of Environmental Contamination and Toxicology; and Water Science and Technology.
To be accepted to the editorial board, a candidate must have published some classic papers in their field. "When I was still a PhD student, I wrote a paper searching for important errors in research concerning water treatment methods using adsorption technology," Dr. Hai says. "My work ended up at the top of the journal's most cited papers and was highly appreciated by the international community."
Dr. Tran Nguyen Hai worked as a referee for several Environmental Science journals, received acknowledgements for the quality of his refereeing work and was then accepted onto the journal editorial committees, together with other expert academics from all over the world,
Dr. Tran Nguyen Hai first started refereeing for international journals while working as a second-year PhD student in Taiwan. By now he has refereed on behalf of 51 international journals at 16 major editorial houses worldwide, including Nature Research, Elsevier, Francis, Wiley, RCS, Springer, IWA, SAGE and Mary Ann Liebert. He was also honored by Elsevier in the Netherlands for his contribution to reviews in five of their journals.
"A member of the editorial board of a prestigious international journal is highly recognized by the scientific community in their field and must have broad previous experience as a journal referee," he said
Dr. Tran Nguyen Hai explained that an editorial board member must initially assist the editor-in-chief to determine manuscript quality. Although this is time-consuming, it also brings with it more knowledge, experience and contact other scientists, especially with university professors.
"If a manuscript meets initial requirements, I will locate and invite referees, usually at least six. After receiving reports from at least two of them, I will decide whether the authors should be allowed to amend their papers, be accepted or rejected. I must evaluate each paper based on a variety of criteria to determine whether it has review potential. On a busy day, I must review up to five new manuscripts," he commented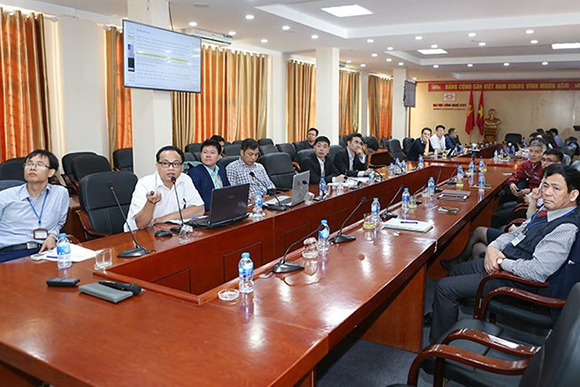 Dr. Tran Nguyen Hai shares his experiences on writing and publishing international papers
Dr. Tran Nguyen Hai has already received up to 1,300 citations for his articles, despite his youth. He has authored six papers in ISI and Scopus indexed journals that were among the most cited within three years of publication, several of which were classified as outstanding, unmatched by most other young researchers.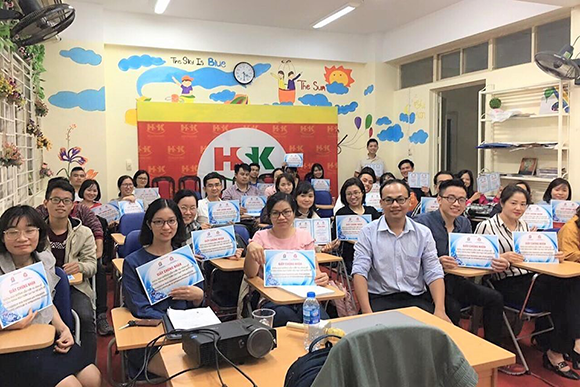 Dr. Tran Nguyen Hai lectures
In addition to his research, Dr. Tran Nguyen Hai also teaches and supports young scientists with a course entitled "Guidance on writing and publishing scientific papers in international journals," held by the HCMC Youth Union Center for Science and Technology Development, in HCMC, Hanoi and Danang.
"I want to help as many young and driven Vietnamese researchers as possible gain the skills necessary to integrate internationally," said Dr. Hai. "I hope to see many more high-quality papers of theirs published worldwide."
(Media Center)
Other News
- DTU presents Tet gifts to Underprivileged Faculty and Staff (2/20/2020 2:33:48 PM)
- DTU Participates in Vietnam-Myanmar Education Cooperation Forum (2/20/2020 1:42:12 PM)
- Southeast Asian Ministers of Education Organization (SEAMEO) Polytechnic Network: Big Opportunity for DTU Students (11/20/2019 10:26:27 AM)
- DTU Advances to Finals of 2019 ASEAN Information Security Contest (11/20/2019 10:22:15 AM)
- DTU Meets with the Vietnamese N&V Bridge and Japanese Chime Companies (11/20/2019 10:19:01 AM)
Many guests, colleagues, friends, local press and media attended the Twentieth Anniversary of Duy Tan University at the Trung Vuong Theatre on November 11th. For the past twenty

DTU was honored to be one of only two private universities nationwide to receive an Emulation Banner from MOET this year. This is a highly-deserved award in view of DTU's twenty

On October 29th, DTU signed an agreement to share technology with the Dr. Nano Company, including: - A low cost, do-it-yourself water filtering system, which won first-place in a