A Cultural Exchange with Keuka College
On January 3, the DTU Global Student Exchange Office and International School began a two-week cultural exchange program with Keuka College, providing an insight into the American culture, the promise of a long-term international friendships and the opportunity to practice English.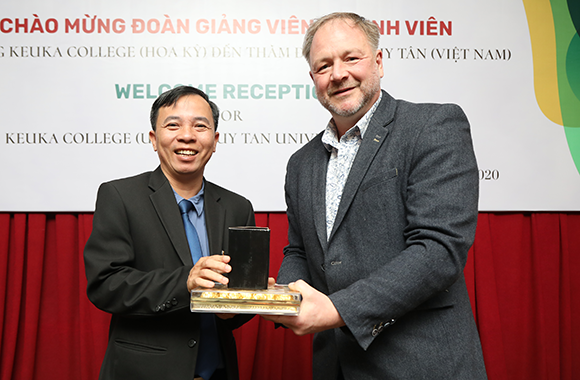 Gift giving
Keuka College was founded in 1890 on the shores of Lake Keuka, in the Finger Lakes area of New York State. The private university is accredited regionally, is known for its high-quality education and offers undergraduate and graduate programs in Business Administration, Health and Social Sciences, Language, Education, Pure Science and Mathematics.
Musical performances and games were arranged by the DTU Sport and Arts Center to bring everyone together and the two universities took turns to overview their countries, cultures and lifestyles, discussing the differences in language, cuisine, traditional costume and tourist attractions in their two localities.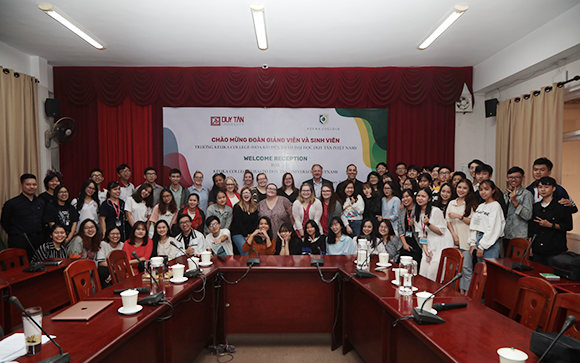 DTU and Keuka college representatives
"This is the second time we've had a chance to visit DTU and we can all meet again, exchange ideas and strengthen our friendship," said Associate Professor Christopher Charles Clinton, from the Keuka College Social Work. "In the near future, DTU and Keuka College will have an even broader cultural and educational partnership and we also anticipate that there will be many more opportunities for us to welcome DTU to Keuka College."
The Americans will participate in a variety of activities, learn more about Vietnam, study Vietnamese and visit local attractions.
(Media Center)
Other News
- A PhD with strong feelings about rural water treatment (2/20/2020 2:52:28 PM)
- DTU presents Tet gifts to Underprivileged Faculty and Staff (2/20/2020 2:33:48 PM)
- DTU Participates in Vietnam-Myanmar Education Cooperation Forum (2/20/2020 1:42:12 PM)
- Southeast Asian Ministers of Education Organization (SEAMEO) Polytechnic Network: Big Opportunity for DTU Students (11/20/2019 10:26:27 AM)
- DTU Advances to Finals of 2019 ASEAN Information Security Contest (11/20/2019 10:22:15 AM)
Many guests, colleagues, friends, local press and media attended the Twentieth Anniversary of Duy Tan University at the Trung Vuong Theatre on November 11th. For the past twenty

DTU was honored to be one of only two private universities nationwide to receive an Emulation Banner from MOET this year. This is a highly-deserved award in view of DTU's twenty

On October 29th, DTU signed an agreement to share technology with the Dr. Nano Company, including: - A low cost, do-it-yourself water filtering system, which won first-place in a