The White Coat Ceremony for DTU Medical students
On May 9, DTU held a "White Coat" ceremony for lecturers and students majoring in the General Practitioner and Doctor of Odonto-Stomatology programs, with Associate Professor Doctor Nguyen Ngoc Minh and DTU Vice-Provost, Dr. Vo Thi Ha Hoa, Dean of Medicine in attendance.
Dr. Nguyen Ngoc Minh said: "The White Coat Ceremony is a rite of passage for medical students, signifying their entrance into the medical profession. White symbolizes purity, humanitarianism and the altruistic values of medicine and doctors. This ceremony marks the first step in a student's medical career. I am sure that you will always put the maximum effort into studying and working to become the best doctors you can to cure your patients."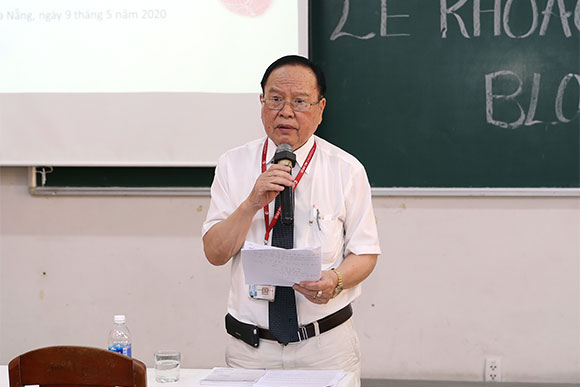 Associate Professor Nguyen Ngoc Minh speaks
It was a very emotional moment, as students took turns to step up to the podium to put on their white shirts. Although it takes a long time to become good doctors, at this very moment, they all understood the importance of the career they had chosen and the responsibilities they have taken on as budding doctors.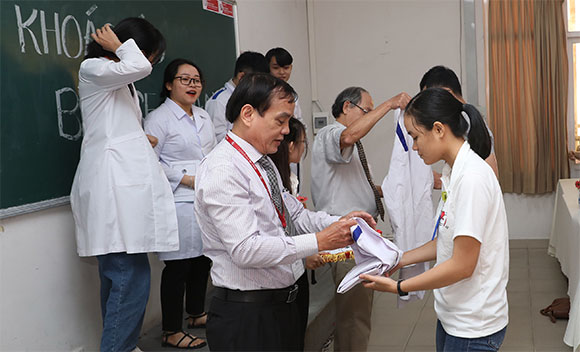 Lecturers present white shirts to students
DTU created the seven-year M.D. training program, which was founded on international collaboration. The first year is devoted to English language training, in order to provide a firm grasp of general and specialized medical English terminology, so that students will be able to efficiently access and absorb the latest international information and research, all in English. During the next 6 years, they will learn about: Pediatric Psychiatry, Tuberculosis - Lung Disease, Orthopedic Injury, Cancer, Neurological, Ear-Nose-Throat, Internal Dermatology, Endocrinology, Clinical Medicine, Hematology and other topics. Skills training is top priority in medical education at DTU. After the ceremony, students are qualified to intern at local hospitals to broaden their knowledge and experience before graduation.
(Media Center)
Other News
- Another Trial Version of Non-invasive Ventilator (5/20/2020 3:13:01 PM)
- Letter from University Chairman (5/20/2020 3:08:42 PM)
- Thoughts on Vietnamese Psyche after Covid-19 (5/20/2020 2:57:44 PM)
- A Cultural Exchange with Keuka College (2/20/2020 3:10:15 PM)
- A PhD with strong feelings about rural water treatment (2/20/2020 2:52:28 PM)
Many guests, colleagues, friends, local press and media attended the Twentieth Anniversary of Duy Tan University at the Trung Vuong Theatre on November 11th. For the past twenty

DTU was honored to be one of only two private universities nationwide to receive an Emulation Banner from MOET this year. This is a highly-deserved award in view of DTU's twenty

On October 29th, DTU signed an agreement to share technology with the Dr. Nano Company, including: - A low cost, do-it-yourself water filtering system, which won first-place in a