Graduation Ceremony of the International Master of Nursing Partnership Program with Fooyin University
On October 3, DTU and Fooyin University held a graduation ceremony for the very first 25 students of the International Master of Nursing program. Dr. Pham Van Tac, Director General of Administration of Science Technology and Training at the Ministry of Health, representatives of the Departments of Health and Hospitals in Danang, Hue and Quang Nam, Distinguished Teacher Le Cong Co, DTU Chairman, DTU Board of Provosts, Deans of faculties, lecturers and students from the Faculty of Nursing attended.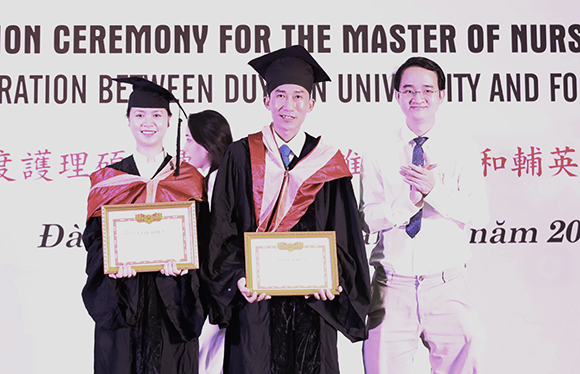 Dr. Le Nguyen Bao, DTU Provost, awards Certificates of Merit and gifts to the two best students
The two-year International Master of Nursing program, in partnership with Fooyin University in Taiwan, graduates international professionals with a Fooyin Master of Science Degree.
Representatives of Fooyin University were unable to attend the graduation ceremony in person because of the pandemic, so Professor Dr. Chih-Ling (Esther) Huang, the Provost, produced a congratulatory video for the new graduates. "Congratulations to you all, we are so proud of you. I wish you success and good luck in the future."
International Master of Nursing program students are taught by Fooyin University and DTU lecturers, and visiting lecturers from the Hue University of Medicine and Pharmacy, Hanoi Medical University and elsewhere.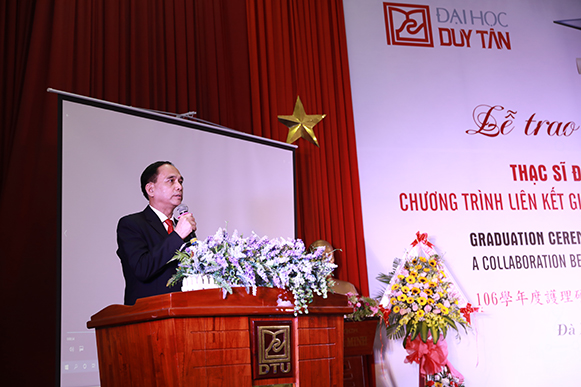 Dr. Pham Van Tac, a representative from the Ministry of Health
Dr. Pham Van Tac said: "We greatly admire DTU's past achievements. For 26 years, your university has offered 56 academic programs in many different fields and enrolled 26,000 students. We are impressed that 95% of DTU graduates find immediate employment. DTU has been offering education in the Health Sciences for 10 years and the very first truly internationally qualified nursing students have now graduated. 2020 is also the Year of the Nurse and Midwife and the 30th anniversary of the Vietnam Nurses Association. Please be proud of your new career, with the most noble responsibility of protecting people's health."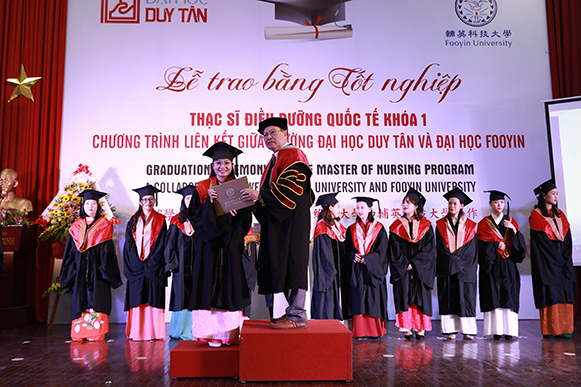 New graduates
After graduating summa cum laude in Nursing from DTU, Mr. Nguyen Tien Dung decided to sign up for a Master's degree in Nursing, offered jointly by DTU and Fooyin University in Taiwan. He has since become Chief Nurse of an Emergency Department and Chairman of the Hospital Union. He said: "The last two years were important for me because I learned a lot about my future job. My classmates and I studied advanced nursing techniques at Fooyin University and are now confident to continue our work more effectively."
A representative introduced the Osterhof Company and the possibility of studying and working in Germany. DTU has also partnered with the Seirei Social Welfare Community, Sugaruma Group and LC Medicom in Japan to open up new internship and career opportunities for DTU Nursing students.
Fooyin University was founded by Dr. Chang Peng Tu in 1958 and is the first private university to teach Nursing Technology and run a training hospital in Taiwan. The university is now one of the top in Technology in Taiwan as a result of its steady accomplishments.
(Media Center)
Other News
- The 2+2 Study-Abroad Programs with Canadian and American Universities (10/20/2020 3:21:55 PM)
- DTU Student Reaches the Finals of the Miss Vietnam 2020 Contest (10/20/2020 3:09:18 PM)
- Four Vietnamese Universities enter the CWUR Top 2000 in the academic year 2020-2021 (9/21/2020 9:26:21 AM)
- DTU-Vent Version 3.0 to Treat Covid-19 (9/21/2020 9:23:12 AM)
- DTU Electrical and Electronic Engineering Program Obtains American ABET Accreditation (9/21/2020 9:17:58 AM)
Many guests, colleagues, friends, local press and media attended the Twentieth Anniversary of Duy Tan University at the Trung Vuong Theatre on November 11th. For the past twenty

DTU was honored to be one of only two private universities nationwide to receive an Emulation Banner from MOET this year. This is a highly-deserved award in view of DTU's twenty

On October 29th, DTU signed an agreement to share technology with the Dr. Nano Company, including: - A low cost, do-it-yourself water filtering system, which won first-place in a