An Agreement with Data House Asia Consulting JSC
On January 19, DTU signed an agreement with Data House Consulting Asia, with Mr. Nguyen Xuan Huy, General Director of Data House, Dr. Nguyen Huu Phu, DTU Vice-Provost, and Computer Science lecturers and students in attendance.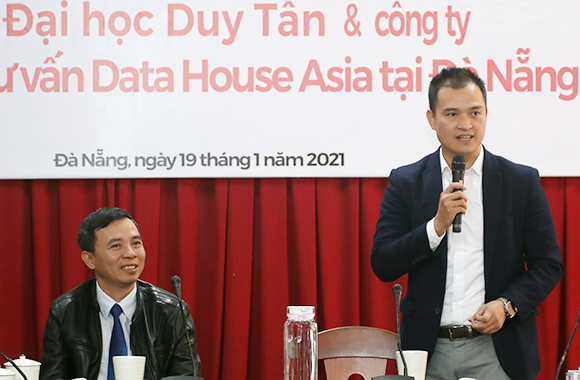 Mr. Nguyen Xuan Huy
Mr. Nguyen Xuan Huy said: "Data House specializes in consulting, software design and development in educational and corporate institutions. To meet the increasing demand to understand and select the optimal software solutions, we are always looking for skilled professionals for our future development. Over the years, we have been impressed by our DTU alumni because of their solid knowledge, diligence, work attitude and progressive spirit. We trust that our partnership will open up many new practical learning and research opportunities for today's DTU students."
DTU and Data House Asia signed a Memorandum of Understanding and will work together to conduct training courses, internship programs, field trips, career orientation and recruitment sessions, mentor technology contest competitors and award scholarships for outstanding research projects.
At the signing, Data House Asia granted scholarships to three excellent students.
(Media Center)
Other News
- Eleven Vietnamese Universities in the QS Asia University Rankings 2021 (2/20/2021 9:45:28 AM)
- Three Vietnamese researchers listed in 2020 among 100,000 of the world's most influential (12/19/2020 10:41:12 AM)
- Three more Vietnamese Universities listed in the 2021 QS Asia University Rankings (12/19/2020 10:37:02 AM)
- DTU Students Win People's Choice Award at the K-pop Festival (12/19/2020 10:31:33 AM)
- DTU Students win third prize in the 2020 ASEAN Student Information Security Contest (12/19/2020 10:26:35 AM)
Many guests, colleagues, friends, local press and media attended the Twentieth Anniversary of Duy Tan University at the Trung Vuong Theatre on November 11th. For the past twenty

DTU was honored to be one of only two private universities nationwide to receive an Emulation Banner from MOET this year. This is a highly-deserved award in view of DTU's twenty

On October 29th, DTU signed an agreement to share technology with the Dr. Nano Company, including: - A low cost, do-it-yourself water filtering system, which won first-place in a