DTU Overseas Study Opportunities in South Korea, Taipei and Thailand
The Faculty of Hospitality & Tourism offers global student exchange programs in partnership with universities in South Korea, Taipei and Thailand to help students expand their education and experience foreign cultures, and, in March, eleven students from the DTU Faculty of Tourism and the International School went on exchanges with Dong - A University, South Seoul University and Sejong University. They all thoroughly enjoyed life in Korea, made new friends and broadened their knowledge.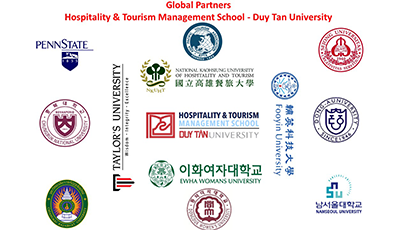 DTU's international partners
In 2018-2019, to study overseas applicants must:
- Be able to communicate in English;
- Have a TOEIC English language certificate with a score of at least 450 and a basic knowledge of Korea, Taiwan and Thailand. An HSK3 certificate would also be advantageous.
The fifty successful advanced PSA Tourism students will begin studying in the Spring of 2019 at Sejong University, the Women's University of Dongduk University and Young San University for 12 months, and at Dong - A University, Fooyin University and Cao Hung Tourism and Hotel University for 6 months. The normal students will study at South Seoul University and Chungbuk National University for 12 months and Chiang Mai Rajbhat University for 6 months.
Admission and tuition fees are free for successful applicants and their results will be reported to DTU on completion of their overseas studies.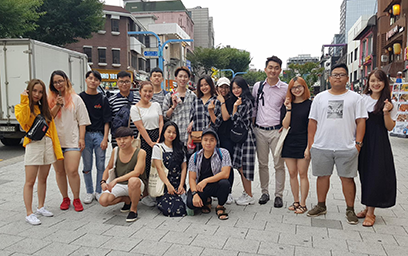 DTU students in Seoul
Registration procedure information:
Complete and submit an application form to the Faculty of Hospitality and Tourism
- Applications from: October 10th - October 31st
- Interviews on: November 6 and 7
- Results: November 12
For further information, please contact:
Mrs. Bao Lien via phone: 0935.353.499
Email: htms@duytan.edu.vn;
Website: kdulich.duytan.edu.vn
(Media Center)
Other News
- Potential DTU International Internships (3/1/2019 2:08:17 PM)
- An Exchange with Temasek Polytechnic (2/19/2019 4:14:01 PM)
- DTU Donates Electric Wheelchairs to the Disabled in Danang (2/19/2019 4:04:26 PM)
- DTU Overseas Study Opportunities in South Korea, Taipei and Thailand (2/19/2019 3:50:55 PM)
- "Korea Week 2019" at DTU: Promotion of Mutual Understanding and Cultural Exchange (1/21/2019 9:57:08 AM)
Many guests, colleagues, friends, local press and media attended the Twentieth Anniversary of Duy Tan University at the Trung Vuong Theatre on November 11th. For the past twenty

DTU was honored to be one of only two private universities nationwide to receive an Emulation Banner from MOET this year. This is a highly-deserved award in view of DTU's twenty

On October 29th, DTU signed an agreement to share technology with the Dr. Nano Company, including: - A low cost, do-it-yourself water filtering system, which won first-place in a