DTU Electrical and Electronic Engineering Program Obtains American ABET Accreditation
In late August 2020, ABET - the American-based Accreditation Board for Engineering and Technology - officially recognized that the DTU Electrical and Electronic Engineering program meets the ABET accreditation criteria, at the highest level of six years, until September 30, 2026. This accreditation also covers DTU Electrical and Electronic Engineering students who graduated since October 1, 2018.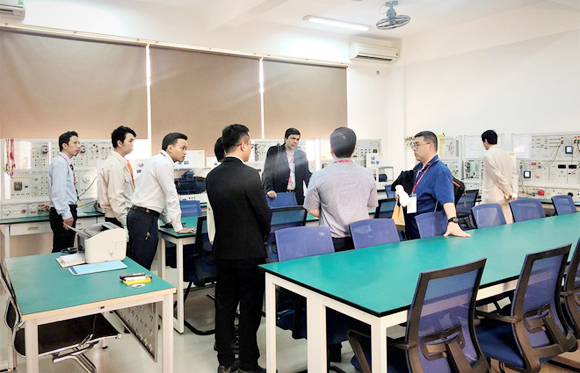 ABET evaluators at DTU Electrical and Electronic Engineering labs
To date, DTU has three ABET-accredited programs: besides Electrical and Electronic Engineering it also has Network Engineering and Management Information Systems, which were recognized on August 27th, 2019.
DTU is the second university in Vietnam to be accredited, in addition to the Ho Chi Minh City University of Technology (in 2014), and it is one of four Vietnamese educational institutions to have received ABET accreditation, including Cao Thang Technical College in 2018 and International University - Vietnam National University HCMC.
ABET highly praised the DTU major in Electrical and Electronic Engineering with the following remarks: "Duy Tan University has adopted a training program based on an interdisciplinary approach of excellent projects to help students gain practical knowledge by proactively exploring challenges and solving real-world problems. The international CDIO (Conceive - Design - Implement - Operate) approach has been adopted in engineering education at DTU. This advanced teaching method aims to equip graduating engineers with basic engineering principles to develop skills in conceiving, designing, implementing and operating. The DTU Electrical and Electronic Engineering program has integrated the five supplementary standards of a CDIO program. The DTU lecturers have demonstrated their competence and ability to excellently implement the CDIO principles through their presentations at many international CDIO conferences. The DTU Electrical and Electronic Engineering students are well-prepared for engineering practice by participating in CDIO Academy competitions to showcase their design-implement projects".
ABET is recognized worldwide for the accreditation of foreign institutions teaching technology and engineering. ABET was founded in 1932 and consists of four accreditation commissions who set standards for specific fields and degree levels:
• Applied and Natural Science Accreditation Commission (ASAC)
• Computing Accreditation Commission (CAC)
• Engineering Accreditation Commission (EAC)
• Engineering Technology Accreditation Commission (ETAC)
The 2,200 ABET experts come from 35 organizations, such as ASHRAE, SPE and SME, or from the industry, academia or government. Up to now, more than 4,144 programs at 812 colleges and universities in 32 countries have received ABET accreditation. Many well-known universities around the world have received ABET accreditation, including: The University of Applied Sciences Upper Austria; Mody University of Science and Technology in India; AMA Computer University in the Philippines; the Massachusetts Institute of Technology (MIT); University of California, Berkeley (UCB); Carnegie Mellon University (CMU); Johns Hopkins University; Duke University and so on.
Unlike assessment and accreditation based on a responsive level from 1 to 7 (by AUN-QA) or on meeting at least 80% of the criteria (domestic accreditation), for ABET, the training programs should absolutely meet 100% of their criteria, at the highest level of six years.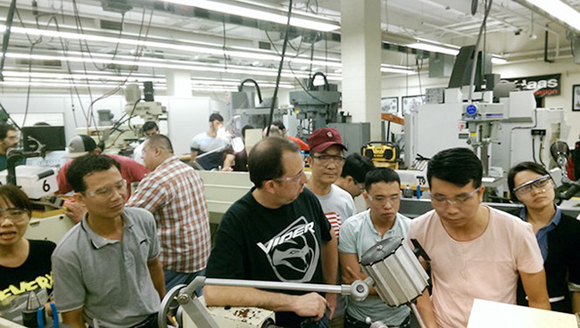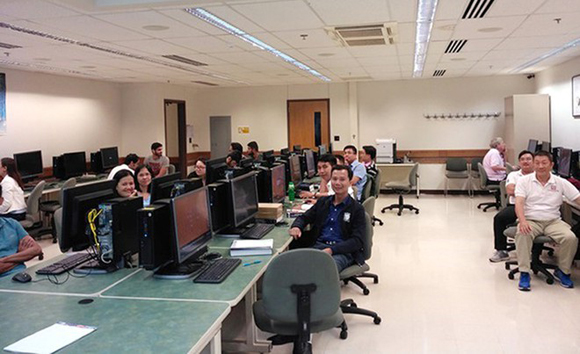 Electrical Engineering staff and lecturers participate in intensive training at Purdue University Northwest
The DTU Electrical and Electronic Engineering program met 100% of the ABET criteria. To prepare, DTU had spent many years assembling highly-qualified teams of lecturers, applying innovative models in teaching methods, setting learning outcomes, expanding international collaboration to enhance the quality of education and investing in state-of-the-art research laboratories and equipment.
Dr. Vo Thanh Hai, DTU Vice Provost, said: "The accreditation of educational institutions or academic programs is an essential requirement for universities to be autonomous under the revised Higher Education Law. When an education program at DTU is granted ABET accreditation, it means that the quality of this program is recognized worldwide, which will also reduce the gap between domestic and international prestigious universities. Achieving ABET accreditation is important because it gives prospective students the assurance that they will be taught by a highly-qualified team of lecturers, using active learning methods with up-to-date materials in state-of-the-art laboratories in order to help them put their academic skills into action and satisfy the increasing labor market requirements. Achieving ABET accreditation is the very proof that the quality of education at DTU has gradually come to meet international standards."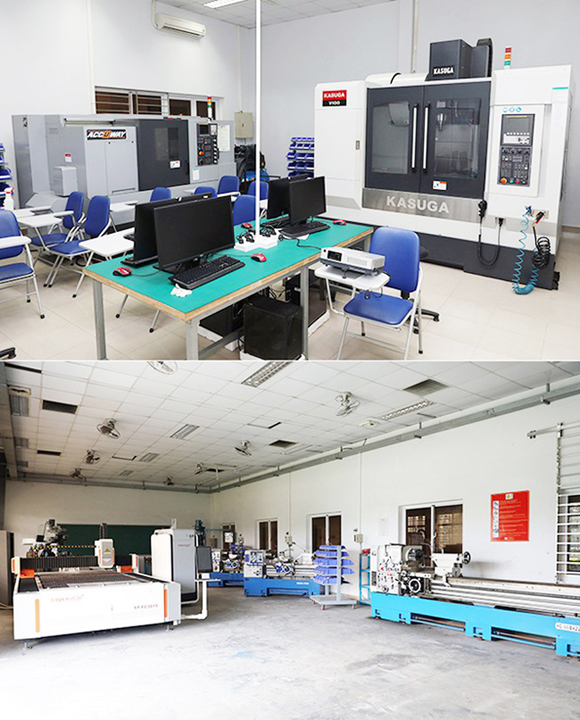 DTU state-of-the-art laboratories
Dr. Ha Dac Binh, Dean of DTU Faculty of Electrical Engineering, affirmed: "ABET accreditation for education programs is an extremely important goal of the Faculty of Electrical Engineering in particular and DTU in general since this is a measure of the quality of training and also the 'ticket' for the Faculty to enter the international playing ground in the field of engineering and technology education. Along with the pride of studying an ABET accredited program, students will enjoy the best quality of training, study materials, teachers, and modern facilities at a reasonable tuition fee. Obtaining ABET accreditation helps broaden DTU international partnerships, especially with American and Western universities, and gives us a great advantage when enrolling foreign students as well".
In December 2020, the ABET review team will continue to evaluate the DTU Software Engineering program and the University will continue to seek accreditation in other Technology and Engineering programs, in accordance with ABET international standards.
For further information about Electrical Engineering, Electrical Automation and Embedded Systems, Telecommunications, Automotive Engineering Technology, PNU Mechatronics and PNU Electrical Engineering at DTU, visit: The DTU Faculty of Electrical Engineering
For detailed information about enrollment, please contact:
The DTU Enrollment Center
254 Nguyen Van Linh, Danang
Hotlines: 1900.2252 - 0905.294390 - 0905.294391
Website: http://tuyensinh.duytan.edu.vn
Email: tuyensinh@duytan.edu
Facebook: tuyensinhdtu; Zalo: 0905.294.390 - 0905.294.391
DTU
- Ranked among Asia's top 500 universities by QS
- The second Vietnamese university to obtain American ABET accreditation
- Ranked 1,659th in the top 2,000 of universities worldwide and third of four in Vietnam by CWUR
- Ranked 1,147th in the top 2,500 of universities worldwide and third of eight in Vietnam by URAP
- Ranked second of ten leading universities in Vietnam by international publications by the Nature Index in 2019
(Media Center)
Other News
- The White Coat Ceremony for DTU Medical students (5/20/2020 3:18:32 PM)
- Another Trial Version of Non-invasive Ventilator (5/20/2020 3:13:01 PM)
- Letter from University Chairman (5/20/2020 3:08:42 PM)
- Thoughts on Vietnamese Psyche after Covid-19 (5/20/2020 2:57:44 PM)
- A Cultural Exchange with Keuka College (2/20/2020 3:10:15 PM)
Many guests, colleagues, friends, local press and media attended the Twentieth Anniversary of Duy Tan University at the Trung Vuong Theatre on November 11th. For the past twenty

DTU was honored to be one of only two private universities nationwide to receive an Emulation Banner from MOET this year. This is a highly-deserved award in view of DTU's twenty

On October 29th, DTU signed an agreement to share technology with the Dr. Nano Company, including: - A low cost, do-it-yourself water filtering system, which won first-place in a