DTU Scientist Wins a 2020 Golden Globe Award
On December 12, in recognition of his outstanding contribution to biotechnology research, Dr. Ho Thanh Tam received an award from the Ho Chi Minh Communist Youth Union Central Committee at the 2020 Golden Globes Young Science & Technology ceremony.
With his unceasing hard work in research and in the community, Dr. Tam, from the DTU Institute for Global Health Innovation, was one of ten recipients of the 18th annual Golden Globes awards. He is one of four researching in Vietnam, comprising the University of Medicine & Pharmacy in HCMC, Ton Duc Thang University, the Vietnam National University in HCMC and DTU.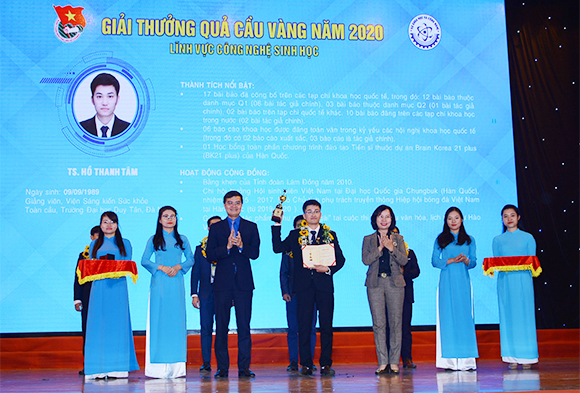 Dr. Ho Thanh Tam receives a 2020 Golden Globe Award
The Golden Globe Awards are presented to celebrate Vietnamese talent under the age of 35 with formidable accomplishments in information & communications, medical & pharmaceutical, bio, environmental and new materials technologies. The award is intended to promote competitiveness, in-depth study and research, and the application of science & technology applications in everyday life.
This year, 51 submissions were received, 45 from 19 institutions and 6 potentials. Many of the papers had already been published in established international journals with SCI/SCIE/ISI and Q1-Q4 rankings. The candidates included Vietnamese researchers working at well-known foreign institutions abroad, such as the UK, South Korea and Austria.
Young Dr. Tam has already left a deep impression with his research. Most noteworthy are his 17 publications in international journals, 10 in national ones and 6 from the proceedings of international and local conferences. Dr. Tam was the coauthor of one chapter of a monograph published by SPi Technologies in India in 2020.
Dr. Tam has also won prizes for the best presentations at international conferences, such as a third prize at the in Vitro Biology meeting in Raleigh, North Carolina, in 2017; a second the 3rd International Orchid Symposium in Seoul, South Korea, in 2018; and two others at conferences in South Korea.
Dr. Tam is currently a referee for five leading special international journals: Industrial Crop and Product (Q1, IF 4.244); Horticulture, Environment and Biotechnology (Q2, IF 1.585); PLOS One (Q1, IF 2.740); The Plant Biotechnology Report (Q2, IF 1.462); and The Journal of Biotechnology.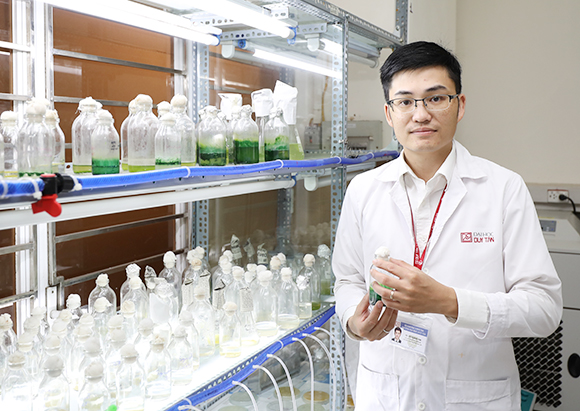 Dr. Ho Thanh Tam researching at DTU
Apart from his love for research, Dr. Tam is also engaged in several other roles; as the Department of Biology Union Deputy-Secretary at Dalat University, from 2009 to 2011; Section President of the Vietnamese Students' Association at Chungbuk National University in South Korea, from 2015 to 2017; and Vice-Chairman of Communications for the Vietnam Football Association in Korea, from 2019 to 2020.
"I am delighted with the award but, at the same time, feel pressured to honor its value and live up to its reputation", said Dr. Tam. "In addition to my hard work and the support of my colleagues, DTU has provided me with the security I need with their excellent remuneration policy. I'm trying to develop national and international partnerships and create a research team right here at the university, to share ideas and conduct further research in the near future."
(Media Center)
Other News
- Graduation Ceremony of the International Master of Nursing Partnership Program with Fooyin University (10/20/2020 3:27:09 PM)
- The 2+2 Study-Abroad Programs with Canadian and American Universities (10/20/2020 3:21:55 PM)
- DTU Student Reaches the Finals of the Miss Vietnam 2020 Contest (10/20/2020 3:09:18 PM)
- Four Vietnamese Universities enter the CWUR Top 2000 in the academic year 2020-2021 (9/21/2020 9:26:21 AM)
- DTU-Vent Version 3.0 to Treat Covid-19 (9/21/2020 9:23:12 AM)
Many guests, colleagues, friends, local press and media attended the Twentieth Anniversary of Duy Tan University at the Trung Vuong Theatre on November 11th. For the past twenty

DTU was honored to be one of only two private universities nationwide to receive an Emulation Banner from MOET this year. This is a highly-deserved award in view of DTU's twenty

On October 29th, DTU signed an agreement to share technology with the Dr. Nano Company, including: - A low cost, do-it-yourself water filtering system, which won first-place in a