DTU Students win third prize in the 2020 ASEAN Student Information Security Contest
The final round of the 2020 ASEAN Student Information Security Contest was held at the Post and Telecommunications Institute of Technology in Hanoi on November 28th, to recognize the skills of Vietnamese Information Security students. ISIT-DTU1 was the only team from the Central region to advance to the finals and finished third.
The contest was jointly organized by the Vietnam Information Security Association (VNISA), the Ministry of Information Security and Communications and the Ministry of Education and Training's Information and Communications Technology Department. The finals brought together ten teams from Vietnam and six other ASEAN contestants from Malaysia, Myanmar, Singapore, Indonesia, Brunei and Laos.
The annual contest has taken place in Vietnam for the last 13 years but this is only the second year it has been held with other ASEAN countries, so the tasks were more complex, requiring teams to tackle more complicated software scenarios.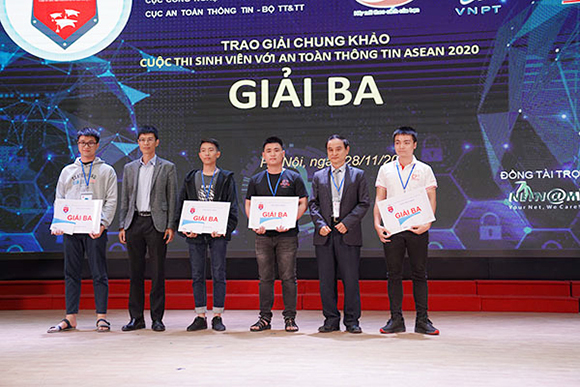 The ISIT-DTU1 wins third prize
The contest lasted for eight hours and contestants were tested on how to mount cyber-attacks against their opponents and, the same time, on how to defend their own computer networks. This year, the contest was based the on the hostile King of the Hill (KotH) and Attack Defense (AD) formats.
Each team's mission was to conquer territory through the exploitation of service bugs and to submit the corresponding flags for each round. Simultaneously, the teams had to protect the territory they had already conquered by fixing security holes in the service. The territorial flags were replaced at the start of each bout and the services were designed with several varieties of security holes.
Mr. Nguyen Kim Tuan, Acting Dean of Network Engineering and Communications in the DTU School of Computer Science, said: "In the final round, difficulty increased and the teams were put under extra pressure. They were required to exercise flexibility and master their knowledge and quick thinking as potential pen testers. Many universities focus today on teaching and developing information security expertise. It turned out that the teams were evenly matched and that each had quite unique competition strategies.".
The HCMUS team won two first prizes, with 6,900 points. Efiens, from the VNU-HCMC University of Technology, and AmongUs, from the FPT University in Hanoi, shared second prize and the MSEC_ADC team from the Military Technical Academy came third, followed by the Pawsitive team from the VNU-Hanoi University of Engineering and Technology, ISIT-DTU1 from Duy Tan University, scoring 1,400, and PTIT.Infern0 from the Post and Telecommunications Institute of Technology in Hanoi.
In addition, 5 consolation prizes were awarded to 2 Vietnamese teams, Nupakachi from the Hanoi University of Science and Technology and SMSEC_SUPPORT from Military Technical Academy and another 3 to other ASEAN contestants, SMU Whitehat Society from Singapore, Elite 1 from Indonesia and Cyber X from Malaysia.
Tran Ky Son, an ISIT-DTU1 team member, said: "This year's competitors were highly qualified and there were many surprises. The contest gave us an excellent opportunity to improve our expertise and broaden our knowledge of network security vulnerabilities and new attack methods. We were delighted to win a third prize and would like to thank Mr. Nguyen Kim Tuan for his dedicated teaching and support."
(Media Center)
Other News
- DTU Scientist Wins a 2020 Golden Globe Award (12/19/2020 10:22:14 AM)
- Graduation Ceremony of the International Master of Nursing Partnership Program with Fooyin University (10/20/2020 3:27:09 PM)
- The 2+2 Study-Abroad Programs with Canadian and American Universities (10/20/2020 3:21:55 PM)
- DTU Student Reaches the Finals of the Miss Vietnam 2020 Contest (10/20/2020 3:09:18 PM)
- Four Vietnamese Universities enter the CWUR Top 2000 in the academic year 2020-2021 (9/21/2020 9:26:21 AM)
Many guests, colleagues, friends, local press and media attended the Twentieth Anniversary of Duy Tan University at the Trung Vuong Theatre on November 11th. For the past twenty

DTU was honored to be one of only two private universities nationwide to receive an Emulation Banner from MOET this year. This is a highly-deserved award in view of DTU's twenty

On October 29th, DTU signed an agreement to share technology with the Dr. Nano Company, including: - A low cost, do-it-yourself water filtering system, which won first-place in a