DTU Students Win People's Choice Award at the K-pop Festival
The 2020 K-pop Cover Video Contest for residents of Da Nang, Thua Thien - Hue, Quang Nam and Quang Ngai was launched by the Consulate General of the Republic of Korea in Danang two months ago and just ended. Two students from the DTU Faculty of Korean Language, Dinh Gia Han and Nguyen Trong Phung, won the People's Choice Prize with a beautiful song entitled "This Love", from the "Descendants of the Sun" soundtrack.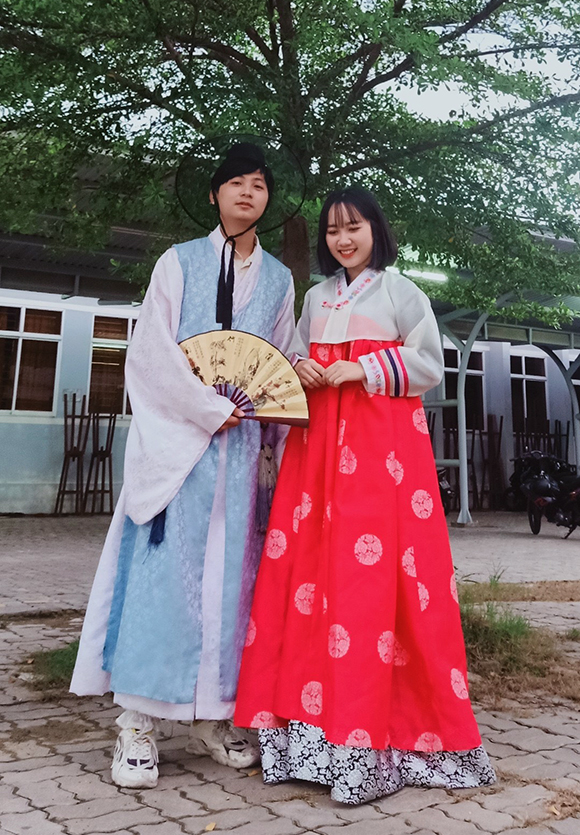 Dinh Gia Han and Nguyen Trong Phung in Korean tradition costume
Contestants display their love for K-pop through videos posted on social media platforms such as Facebook, with the #KPOPFESTIVAL #DANANG #HUE #QUANGNAM #QUANGNGAI.
"This Love" was ranked as one of the Best Korean Drama OSTs. The People's Choice award is 60% based on a jury evaluation and 40% on public likes and shares. The DTU students received 500 likes from viewers, and 300 shares and many positive comments from the online community.
Dinh Gia Han said: "This Love" fully expresses the romance between the characters featured in Descendants of the Sun. Although we are both still freshmen, we had to spend much time learning the words, their pronunciation and the music. However, our teachers from the Korean Language Faculty ably assisted us during rehearsals and will motivate us to nurture our love for the Korean language and study harder in future."
(Media Center)
Other News
- DTU Students win third prize in the 2020 ASEAN Student Information Security Contest (12/19/2020 10:26:35 AM)
- DTU Scientist Wins a 2020 Golden Globe Award (12/19/2020 10:22:14 AM)
- Graduation Ceremony of the International Master of Nursing Partnership Program with Fooyin University (10/20/2020 3:27:09 PM)
- The 2+2 Study-Abroad Programs with Canadian and American Universities (10/20/2020 3:21:55 PM)
- DTU Student Reaches the Finals of the Miss Vietnam 2020 Contest (10/20/2020 3:09:18 PM)
Many guests, colleagues, friends, local press and media attended the Twentieth Anniversary of Duy Tan University at the Trung Vuong Theatre on November 11th. For the past twenty

DTU was honored to be one of only two private universities nationwide to receive an Emulation Banner from MOET this year. This is a highly-deserved award in view of DTU's twenty

On October 29th, DTU signed an agreement to share technology with the Dr. Nano Company, including: - A low cost, do-it-yourself water filtering system, which won first-place in a