DTU Signs an MOU with the Healthcare Accelerator Legal Health Organization
On March 2, DTU signed an agreement with the Healthcare Accelerator Legal Health organization of Japan. Attendees included Mr. Ohta Yuki, Executive Director of Healthcare Accelerator Legal Health, Dr. Le Nguyen Bao, DTU Provost, lecturers and representatives of the two partners.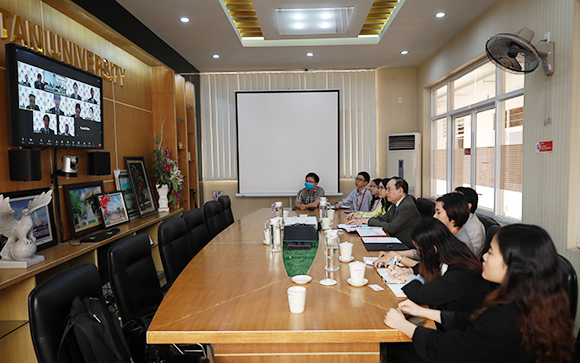 The agreement is signed online because of the pandemic
Mr. Ohta Yuki said: "The Covid-19 pandemic has seriously affected the medical system in Japan but, in the interim, many new hospitals have been built for the timely treatment of patients. We hope that Vietnamese students will be able to intern and work in Japan in the near future but meanwhile we will continue to donate medical equipment to help DTU students improve their medical practice skills."
The agreement came after a period of investigation and discussion between the partners. Students will be supported when applying for internship visas to Japan, those with the best grades or financial difficulties will receive special scholarships and study with Japanese experts.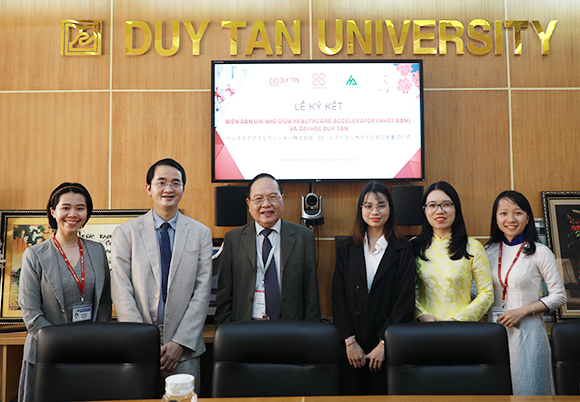 Representatives of Healthcare Accelerator Legal Health and DTU
Japanese lecturers will come to DTU in advance with the appropriate materials to teach basic nursing skills, Japanese culture and the language.
DTU has already partnered with the Suganuma Corporation, the Glome Management Group and the SEIREI Social Welfare community to teach nursing and send lecturers and students to Japan to improve their qualifications.
(Media Center)
Other News
- DTU Students Awarded Troy University and Keuka College Degrees in Danang (2/20/2021 10:13:13 AM)
- An Agreement with Data House Asia Consulting JSC (2/20/2021 10:04:52 AM)
- Eleven Vietnamese Universities in the QS Asia University Rankings 2021 (2/20/2021 9:45:28 AM)
- Three Vietnamese researchers listed in 2020 among 100,000 of the world's most influential (12/19/2020 10:41:12 AM)
- Three more Vietnamese Universities listed in the 2021 QS Asia University Rankings (12/19/2020 10:37:02 AM)
Many guests, colleagues, friends, local press and media attended the Twentieth Anniversary of Duy Tan University at the Trung Vuong Theatre on November 11th. For the past twenty

DTU was honored to be one of only two private universities nationwide to receive an Emulation Banner from MOET this year. This is a highly-deserved award in view of DTU's twenty

On October 29th, DTU signed an agreement to share technology with the Dr. Nano Company, including: - A low cost, do-it-yourself water filtering system, which won first-place in a