MOU Signing with the Department of Information Security
On March 12, DTU signed an MOU with the Department of Information Security, under the Ministry of Information and Communications. Mr. Nguyen Duc Tuan, Director of the Vietnam Cybersecurity Emergency Response Teams/Coordination Centre (VNCERT/CC), Dr. Nguyen Huu Phu, DTU Vice-Provost and DTU lecturers and staff attended the signing ceremony.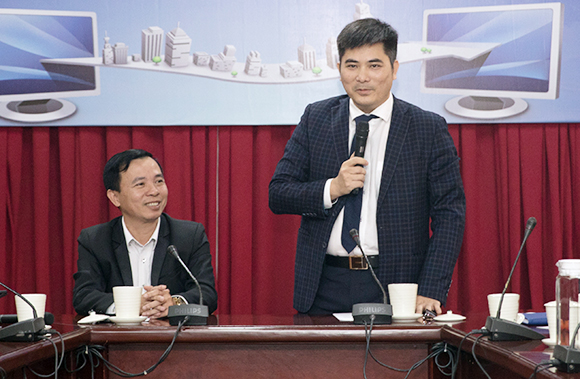 VNCERT/CC Director Nguyen Duc Tuan
Mr. Nguyen Duc Tuan, VNCERT/CC Director, said: "The Vietnam Computer Emergency Response Team is part of the Information Security Authority, under the Ministry of Information & Communications, with the responsibility of coordinating cyber safety incident reporting, certifying nationwide information security, managing and operating data systems, coordinating databases and systems for incident response, verifying, combating and preventing spam in government agencies, implementing information security laws and acting as the nerve center for international incident reporting and information security certification. Our important agreement today is necessary to broaden opportunities for an education that extends student information security knowledge and skills."
VNCERT/CC has agreed to provide Cybersecurity courses, share hands-on experience, welcome interns to participate in real-time professional activities, help plan information security research projects and assist in organizing competitions for students.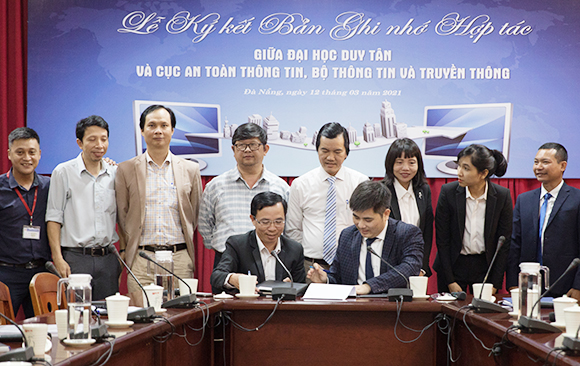 The MOU signing
DTU will also work with VNCERT/CC to hold career orientation sessions, assist VNCERT/CC in recruiting qualified Cybersecurity engineers and send lecturers and students to VNCERT/CC for follow-on training.
Dr. Nguyen Huu Phu, DTU Vice-Provost, said: "Over the years, DTU has increased its partnerships, in order to enhance the quality of education and broaden internship and career opportunities for students. Our new relationship with VNCERT/CC will enable our students to learn more from Cybersecurity experts and make clearer career plans for themselves."
(Media Center)
Other News
- DTU Signs an MOU with the Healthcare Accelerator Legal Health Organization (3/19/2021 10:22:43 AM)
- DTU Students Awarded Troy University and Keuka College Degrees in Danang (2/20/2021 10:13:13 AM)
- An Agreement with Data House Asia Consulting JSC (2/20/2021 10:04:52 AM)
- Eleven Vietnamese Universities in the QS Asia University Rankings 2021 (2/20/2021 9:45:28 AM)
- Three Vietnamese researchers listed in 2020 among 100,000 of the world's most influential (12/19/2020 10:41:12 AM)
Many guests, colleagues, friends, local press and media attended the Twentieth Anniversary of Duy Tan University at the Trung Vuong Theatre on November 11th. For the past twenty

DTU was honored to be one of only two private universities nationwide to receive an Emulation Banner from MOET this year. This is a highly-deserved award in view of DTU's twenty

On October 29th, DTU signed an agreement to share technology with the Dr. Nano Company, including: - A low cost, do-it-yourself water filtering system, which won first-place in a