An Agreement with MISA JSC
On April 24 DTU signed an agreement with MISA JSC and Mr. Nguyen Hong Hai, Director of the MISA JSC Danang Branch; Dr. Nguyen Huu Phu, DTU Vice-Provost, lecturers, staff and students attended.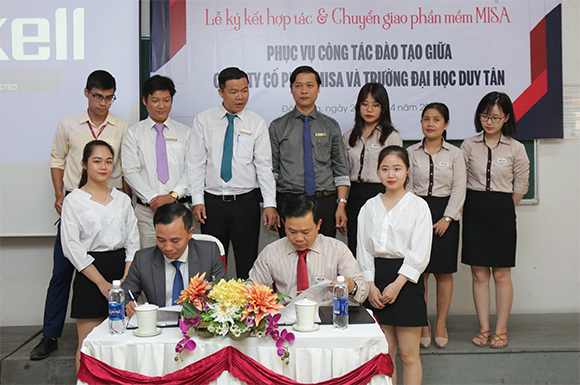 The signing
Mr. Nguyen Hong Hai said: "MISA JSC specializes in providing software for accounting, and asset, school, financial and HR & sales management. With the signing of this agreement with DTU, MISA JSC wishes to support DTU students with early access to its technology solutions and software to give them a solid foundation for the professional skills they will need in their future jobs."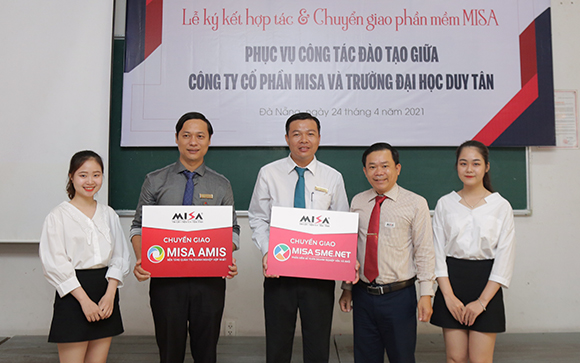 Misa JSC donates accounting and sales management software to DTU
DTU and Misa JSC will work together on research projects, exchanges and internships to improve the quality of education and meet increasing workplace requirements. MISA JSC will donate free software for the desktop or online use according to the DTU curriculum, including documentation, slides, instructional videos, practice exercises, installation and registration guidance.
Mr. Nguyen Hong Hai led a talk show entitled "Digital transformation in the 4.0 Industry. He stated that "Digital transformation" is the integration of digital technology into all areas of a business, fundamentally changing how they operate and deliver value to customers by speeding up technology development, attracting new clients, reducing operating costs and optimizing employee productivity.
(Media Center)
Other News
- DTU Lecturer Awarded the Title of Associate Professor (3/19/2021 2:25:48 PM)
- Preferential Policies for Talented Science and Technologists (3/19/2021 10:40:26 AM)
- MOU Signing with the Department of Information Security (3/19/2021 10:33:30 AM)
- DTU Signs an MOU with the Healthcare Accelerator Legal Health Organization (3/19/2021 10:22:43 AM)
- DTU Students Awarded Troy University and Keuka College Degrees in Danang (2/20/2021 10:13:13 AM)
Many guests, colleagues, friends, local press and media attended the Twentieth Anniversary of Duy Tan University at the Trung Vuong Theatre on November 11th. For the past twenty

DTU was honored to be one of only two private universities nationwide to receive an Emulation Banner from MOET this year. This is a highly-deserved award in view of DTU's twenty

On October 29th, DTU signed an agreement to share technology with the Dr. Nano Company, including: - A low cost, do-it-yourself water filtering system, which won first-place in a