An Agreement with Hitachi Vantara Vietnam
On April 23rd, DTU signed an agreement with the Hitachi Vantara Vietnam company to expand its business partnerships and broaden internship and career opportunities for DTU students.
Attendees included Mr. Nguyen Ba Quynh, General Manager of Hitachi Vantara Vietnam; Mr. Nguyen Anh Tuan, Ms. Nguyen Thi Quy Thao and Mr. Nguyen Van Hau, from the Hitachi Vantara Danang and Hanoi branch offices; Dr. Nguyen Huu Phu, DTU Vice-Provost; Dr. Nguyen Duc Hien, Head of the DTU Office for Business Collaboration; Dr. Tran Van Duc, Deputy-Director of the DTU International Education Institute; Dr. Vo Nhan Van, Dean of IT; Dr. Dang Viet Hung, Director of the Research Center of the DTU School of Computer Science; DTU lecturers and students.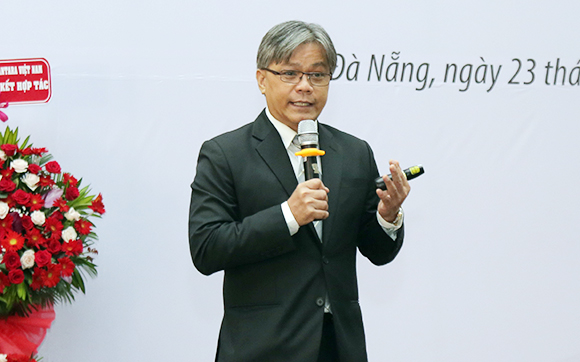 General Manager of Hitachi Vantara Vietnam Mr. Nguyen Ba Quynh
Hitachi Vantara Vietnam, formerly known as Global CyberSoft, is a leading global IT solutions provider, founded in California in July 2000. As part of the Hitachi company since October 2014, it was rebranded as Hitachi Vantara in January 2020. The company has many years of experience providing premier IT solutions and systems integration services to customers around the world, in the fields of Digital Transformation, Product Engineering Services, Enterprise Applications, Embedded Systems and Managed Services.
Dr. Huu Phu Phu, DTU Vice-Provost, said: "We are well aware that providing career opportunities for DTU graduates is part of the university's responsibility and a Career Promotion Center has been founded, where major partnership agreements with well-known companies have been agreed on, such as DataHouse Asia, the Hanoi CPC1 Pharmaceutical Company and now Hitachi Vantara Vietnam. We would like to thank you for your trust in DTU."
Attendees discussed the details of their educational partnership and internships for IT students. DTU and Hitachi Vantara Vietnam agreed to partner in key activities to:
- Sponsor research equipment for specific, approved projects
- Offer internships to 20 students of IT, Software Technology and Information Systems per year
- Be responsible for the content of annual career orientation activities
- Support training courses
- Announce DTU recruitment results annually
- Support any other activities, in accordance with the company policy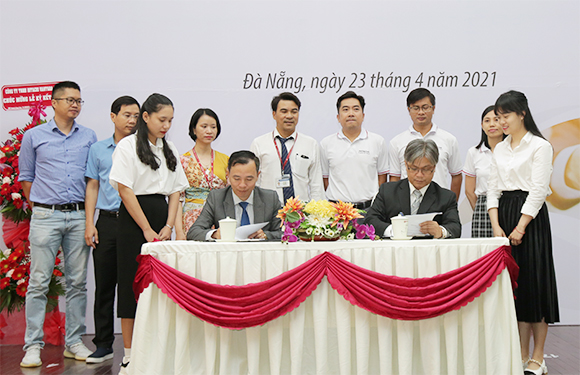 The signing
Mr. Nguyen Ba Quynh explained that, "Over twenty years ago, some like-minded friends and myself decided to work together to realize our dream of putting Vietnam on the world's IT map. We will partner with DTU to help graduates find the best possible IT jobs but, at the same time, hope that we can boost the development of IT in many other fields together."
Hitachi Vantara Vietnam then awarded five scholarships to leading students.
(Media Center)
Other News
- An Agreement with MISA JSC (5/19/2021 10:23:10 AM)
- DTU Lecturer Awarded the Title of Associate Professor (3/19/2021 2:25:48 PM)
- Preferential Policies for Talented Science and Technologists (3/19/2021 10:40:26 AM)
- MOU Signing with the Department of Information Security (3/19/2021 10:33:30 AM)
- DTU Signs an MOU with the Healthcare Accelerator Legal Health Organization (3/19/2021 10:22:43 AM)
Many guests, colleagues, friends, local press and media attended the Twentieth Anniversary of Duy Tan University at the Trung Vuong Theatre on November 11th. For the past twenty

DTU was honored to be one of only two private universities nationwide to receive an Emulation Banner from MOET this year. This is a highly-deserved award in view of DTU's twenty

On October 29th, DTU signed an agreement to share technology with the Dr. Nano Company, including: - A low cost, do-it-yourself water filtering system, which won first-place in a